With the holiday season quickly approaching, many of us here at the Spinnery have started planning and crafting our handknit gifts.  When the knitworthy list is long, smaller projects are a perfect choice; and those that can easily travel move to the top of our list.  We wanted to share our current favorite with you so that you might be able to cast on this week and get a few gifts created while in the midst of your Thanksgiving travels.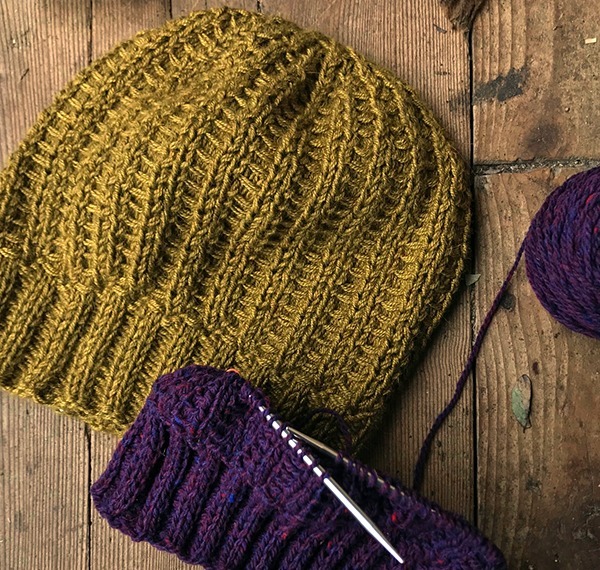 Elizabeth Doherty's Crosscheck hat pattern is as much fun to knit as it will be to wear.  This unisex pattern provides instruction for 6 different sizes (circumference measurements) and two different crown depths (beanie or slouch).  Seen here you can see Kate's finished slouch version knit up with a worsted weight yarn from her stash and the beginnings of a beanie version knit up with the Spinnery's DK weight Mewesic.
And that, my friends is the genius of this pattern!  Elizabeth (our most recent Knitters Weekend teacher) has provided comprehensive tables for cast on counts and crown decreases that adapts her pattern for different weights of yarn.  The same pattern can be used for a variety of gauges giving you chance to use up stash yarn while crafting handmade gifts for everyone on your list!  Win win, right?
Please keep in mind that changing the size, depth and gauge does affect yarn requirements.  Kate used less than 140 yards of worsted weight yarn to make a hat that is 9″ deep with an unstretched circumference of  16 3/4″, a single skein of Spinnery Mountain Mohair or Weekend Wool will be sufficient to make a similarly sized hat.  Kate is confident that she'll have the yardage she needs for her DK weight beanie using her single skein's quantity of 180 yards (or less).  And Elizabeth has even included notes that guide you through using as much yarn as you can, to make the hat as deep as possible.
You can purchase the Crosscheck pattern through Raverly here, and if you purchase the pattern before Sunday, November 26th, 2017 using the coupon code spinnery, you'll receive 25% off!  Thank you Elizabeth!
We hope that you'll grab a copy of this pattern, and get cast on for several hats this holiday season.  You may find that this portable little project can come with you everywhere: getting through security at the airport, in the car stuck in traffic, while in line at the post office, or waiting to check out at the grocery store.  Your gift knitting will be done before you know it!
And all of us here at the Spinnery wish you a very happy holiday week ahead.