This week, while preparing to head off to the Maryland Sheep and Wool Festival, we took stock of all that will be new to friends who haven't seen us since last year.  And we realized that is has been a REALLY busy year here at the Spinnery.
We thought it would be fun to create a scrapbook of our creations for all of our friends to review and enjoy.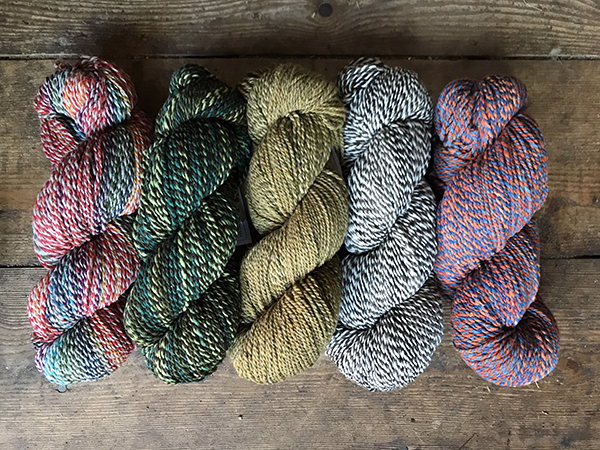 Since last May, we released our deliciously fun Ragg-Time yarn.  This new 100% wool DK weight ragg yarn includes a playful mix of colors and variegation to make any garment a jazzy work of art!  To launch the new line we created ten new shades that span the spectrum.  These skeins are all named for Ragg-Time musicians and composers.
And to support this new yarn's release, we published seven new pattern that spanned a gamut of styles and yardage requirements.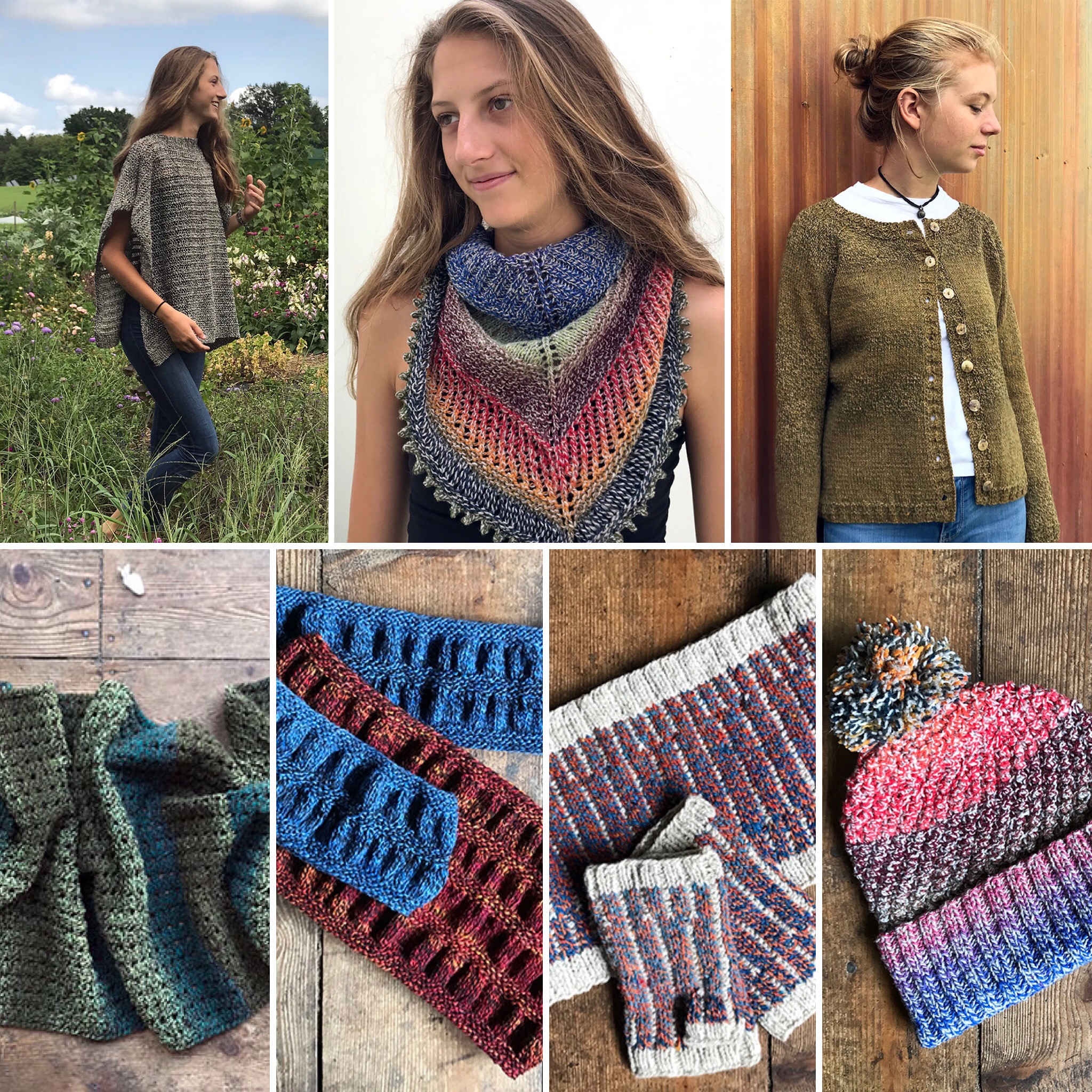 Clockwise from the top left we have the Berlin Poncho which is worked from side to side, the FREE Zen Shawl that calls for a single skein, Numina, a delightful top-down raglan cardigan, the Trinity Mountain Hat  which can also be completed with a single skein, the Rhubarb Cowl and Mitts that pairs Ragg-Time with neutral New Mexico Organic yarn, the Melody Cowls that can be worked up at two different circumferences depending on your preference, and lastly the Knotweed Wrap which really showcases the stunning artistry of the skeins in a classic rectangular shape.
We didn't stop there.  We also published five new adult sweater patterns.  (You may see some repeats in the photos to follow as our patterns often cross categorization).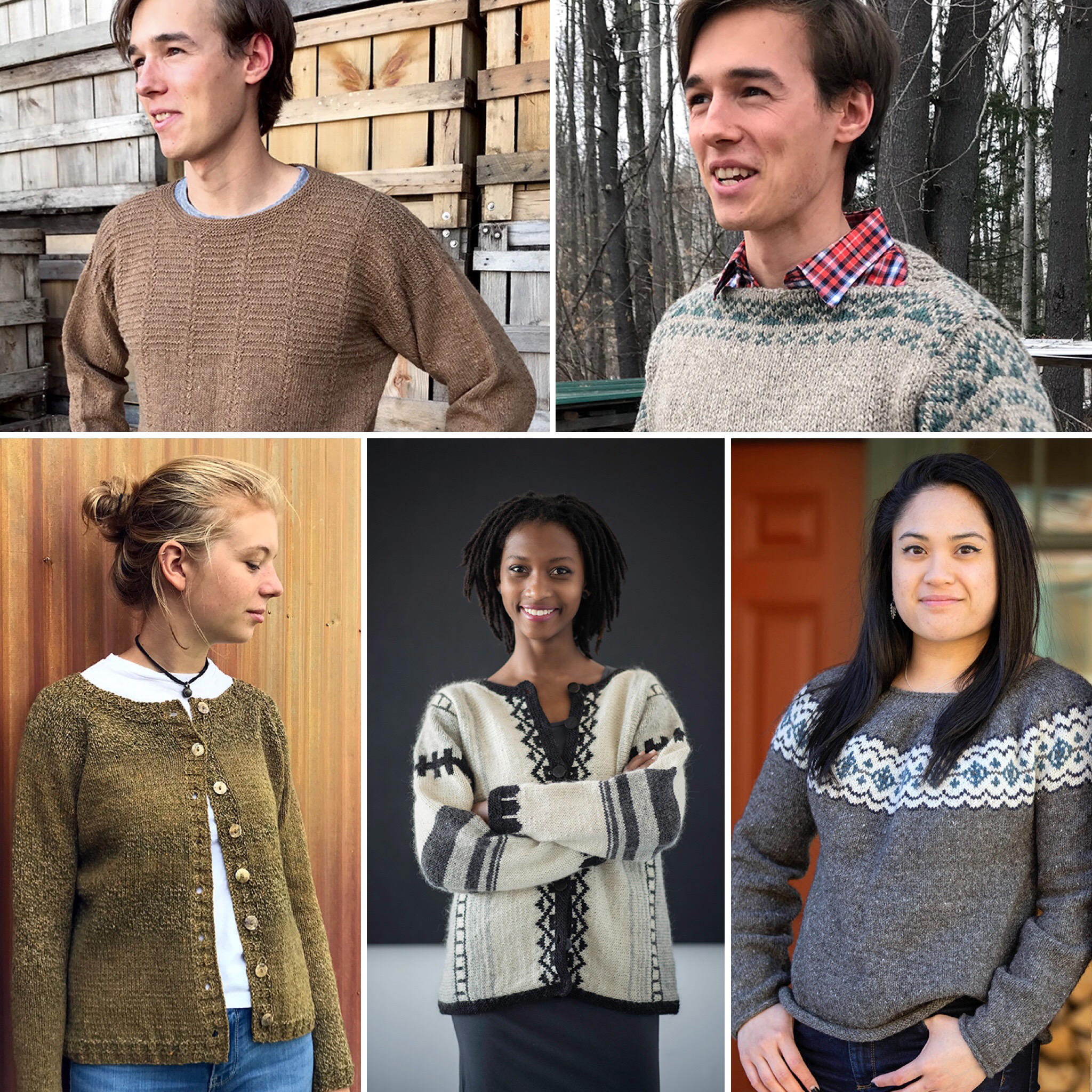 Clockwise from the top left we have two great unisex sweater patterns designed by Cap Sease.  The Moorit Gansey on the left is created with our fingering weight Moorit Singles and John's Sweater on the right calls for our bulky weight Yarn Over.  Maureen designed Stella to showcase our Alpaca Elegance in a stranded yoke pullover, Bea's Cardigan features our classic Mountain Mohair in bold visual motifs that are created thanks to an unusual construction.  Last but not least is the Numina Cardigan designed by Kristen TenDyke that could be a classic wardrobe staple.
And then there are the hats!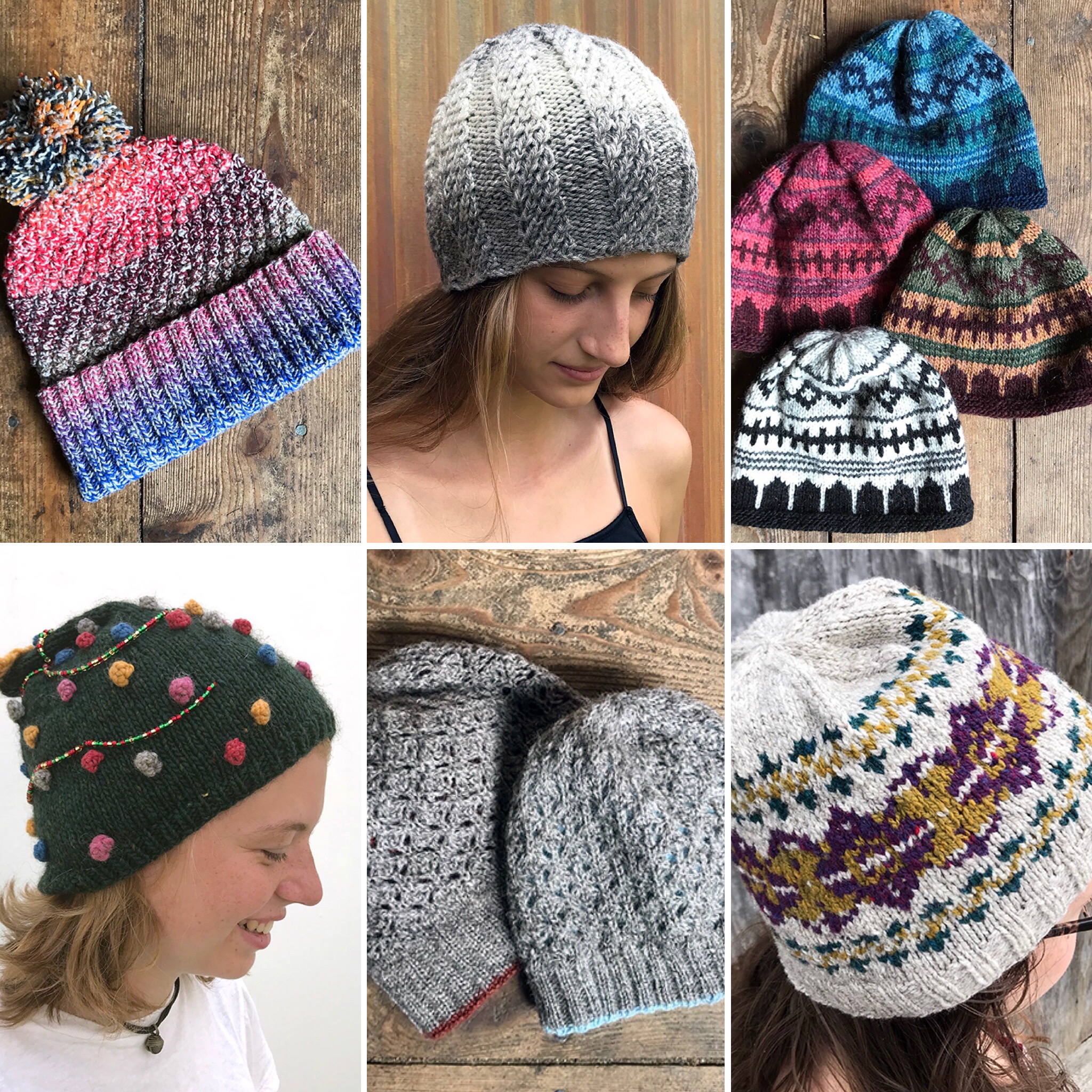 Clockwise from the top left, you've already seen the Trinity Mountain Hat whose pattern includes options for three sizes.  Next is the Whitinsville Hat that can be knit up with a single skein of our Aran weight Weekend Wool.  When Melissa Johnson was working possible color combinations for her Bea's Cardigan, she opted to create Bea's Hat that places all the visual elements of her cardigan in close proximity to best judge their suitability.  Larisa Demos designed the Winter Kaleidoscope hat to give color work beginners a smaller project to test their skills.  The Lopez Island Cap features two layers for extra warmth; and lastly we kitted up My Big Ugly Christmas Hat as a fun alternative to working up an ugly Christmas sweater to save some time!
Phew, can you believe that we still have more to share!?
Our smaller accessory patterns have been a huge hit.  Clockwise from the top left we have the FREE Zen Shawl, Onding a lushly reversible cabled cowl that is worked up with two skeins of our bulkiest yarns.  Cirone  is a delicate crescent shawlette that can be worked with two skeins of Alpaca Elegance. Our Polar Teddy calls for our softest yarn, Green Mountain Green for extra snuggliness.  The Melody Cowl and Rhubarb Cowl and Mitts showcase the bright hues of  our Ragg-Time yarns. And last we have Maureen Clark's Swedish Mittens that can be worked up with two contrasting skeins of Weekend Wool.
Last but not least are the larger accessories that all feature beautiful stitch texturing that look more complex than they are to create.  The Knotweed Wrap knits up quickly thanks to an easily memorized four row repeat.  The Berlin Poncho calls for a straightforward 4 stitch, 2 row pattern that will have you singing along in no time.  And the Suspension Shawl is worked with a twisted rib pattern that makes the classic ribbing pop!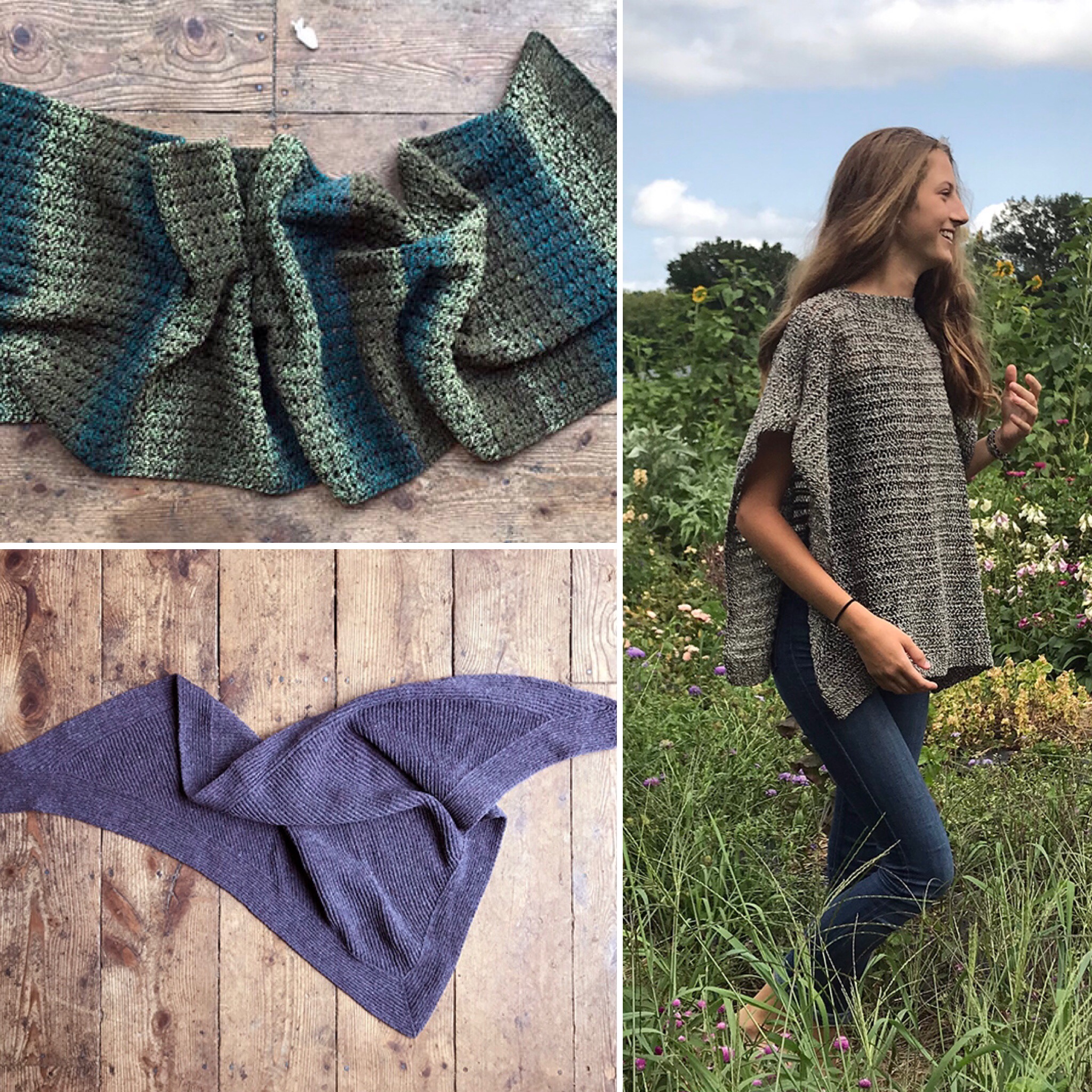 In total, we released just over 20 individual patterns but we may be most proud of our new pattern collection: At the Spinnery.
Visitors have been eagerly awaiting a new book from us for several years since the publication of the Spinnery's second volume of patterns: 99 Yarns.  Thanks to the hard work of Kathleen and Alice of One More Row Press, our newest creation came off the presses as smoothly as wool roving moves through our carding machine.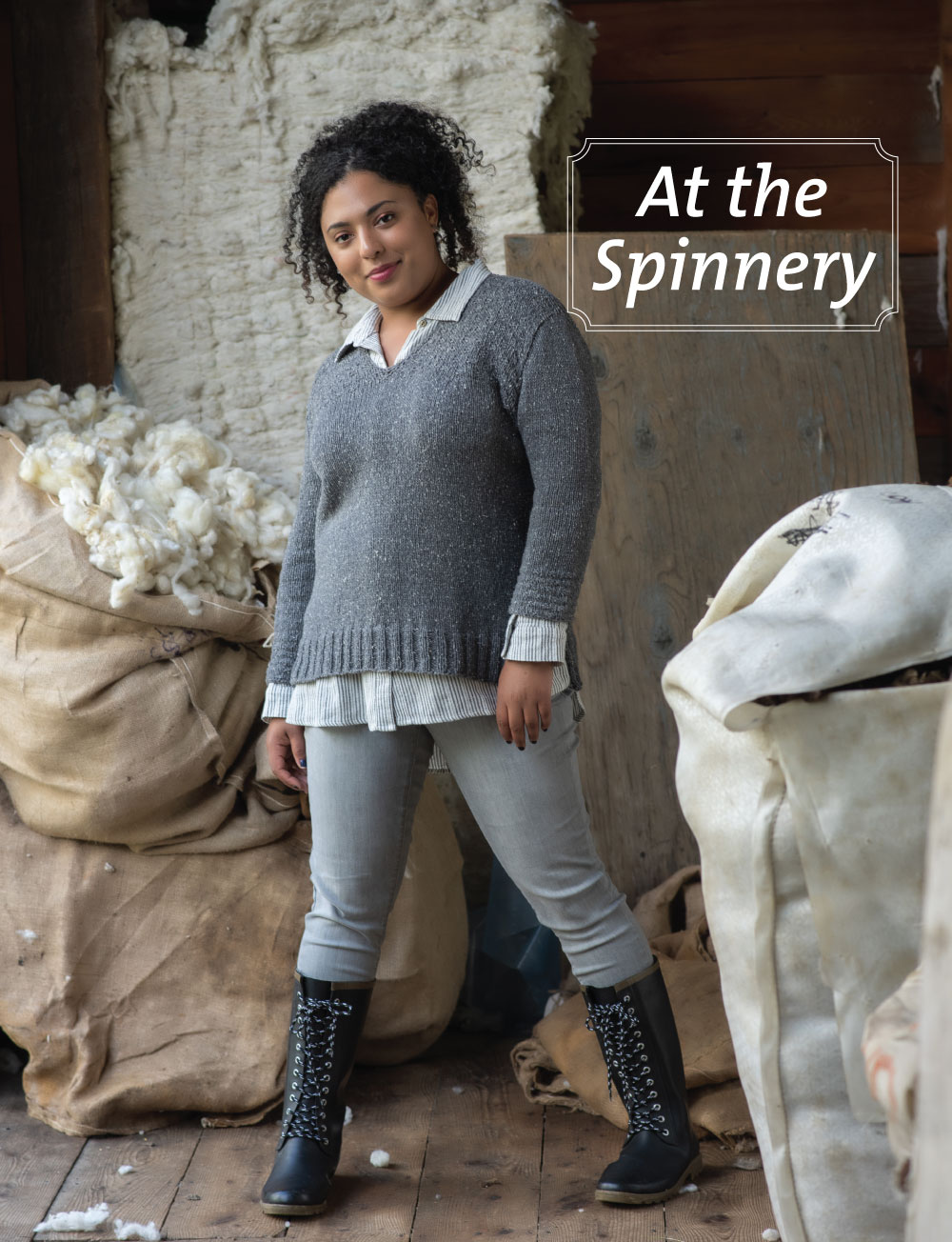 This collection includes 12 new patterns crafted by beloved designers who are fans of our Co-op.  You'll be delighted with matte finish pages that feature the stunning photos taken by Gale Zucker.  Each copy of the book includes a Ravelry download code for digital versions of the patterns for those of you who may prefer to keep your volume pristine.
We are delighted that we'll be able to share all of this with folks who visit our booths at the Maryland Sheep and Wool Festival this weekend (8:30 AM – 6 PM Saturday May 4 and 8:30 AM – 5 PM Sunday May 5), and the NH Sheep & Wool Festival next weekend (9 AM – 5 PM Saturday May 11 and 9 AM – 4 PM Sunday May 12).
We hope that we'll see you there!