The arrival of 2015 has us at the Spinnery looking ahead with new resolutions and intentions as well as reflecting over the past year of projects.  We've been looking back through our Ravelry project pages remembering each of the items that were completed this year and what was going on in our lives as those stitches were made.
We thought we would share our favorite projects with you this week.  These may inspire you to cast on for something similar, or get a little bit of new joy out of projects of your own that you are proud of.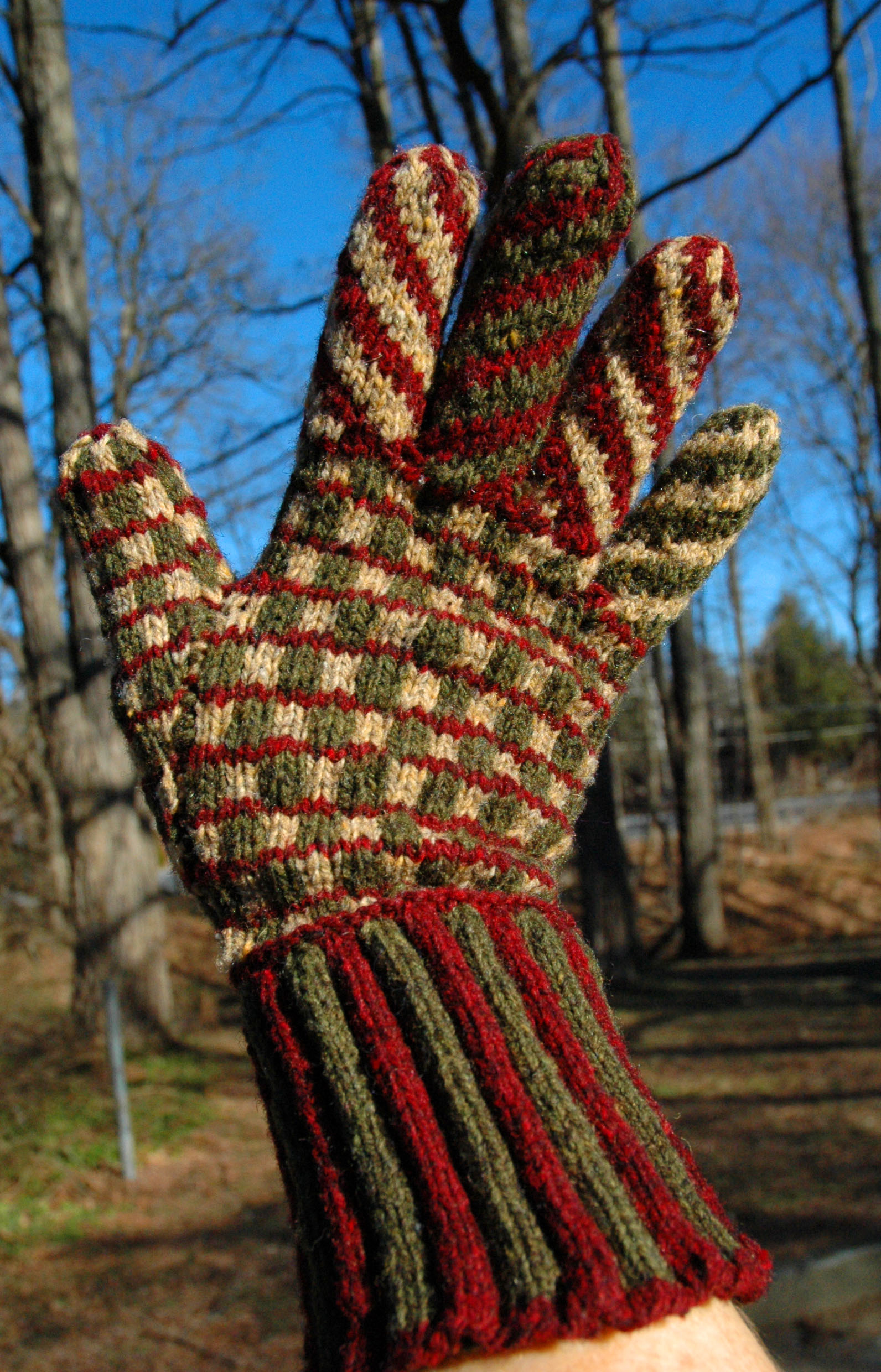 All of us at the Spinnery were excited as the first skeins of our new Mewesic yarn made their way through production.  This fall all of us cast on eagerly to play with the new yarn and get a sense of how it knit up.  Eric made a stunning new sample of the Wonderland Gloves pattern using Sandman, Brickhouse, and Evergreen.  The contrasting colors pop beautifully and the dense gauge of the gloves ensures satisfying warmth for your hands.
Kate used a similar color scheme for her first stranded color work project, Ysolda Teague's Pyukkleen Cowl pattern.  She found that the stitches just flew along her needles.  By trying something new after years of knitting, she has opened up a whole new world of projects that she is eager to try her hand at.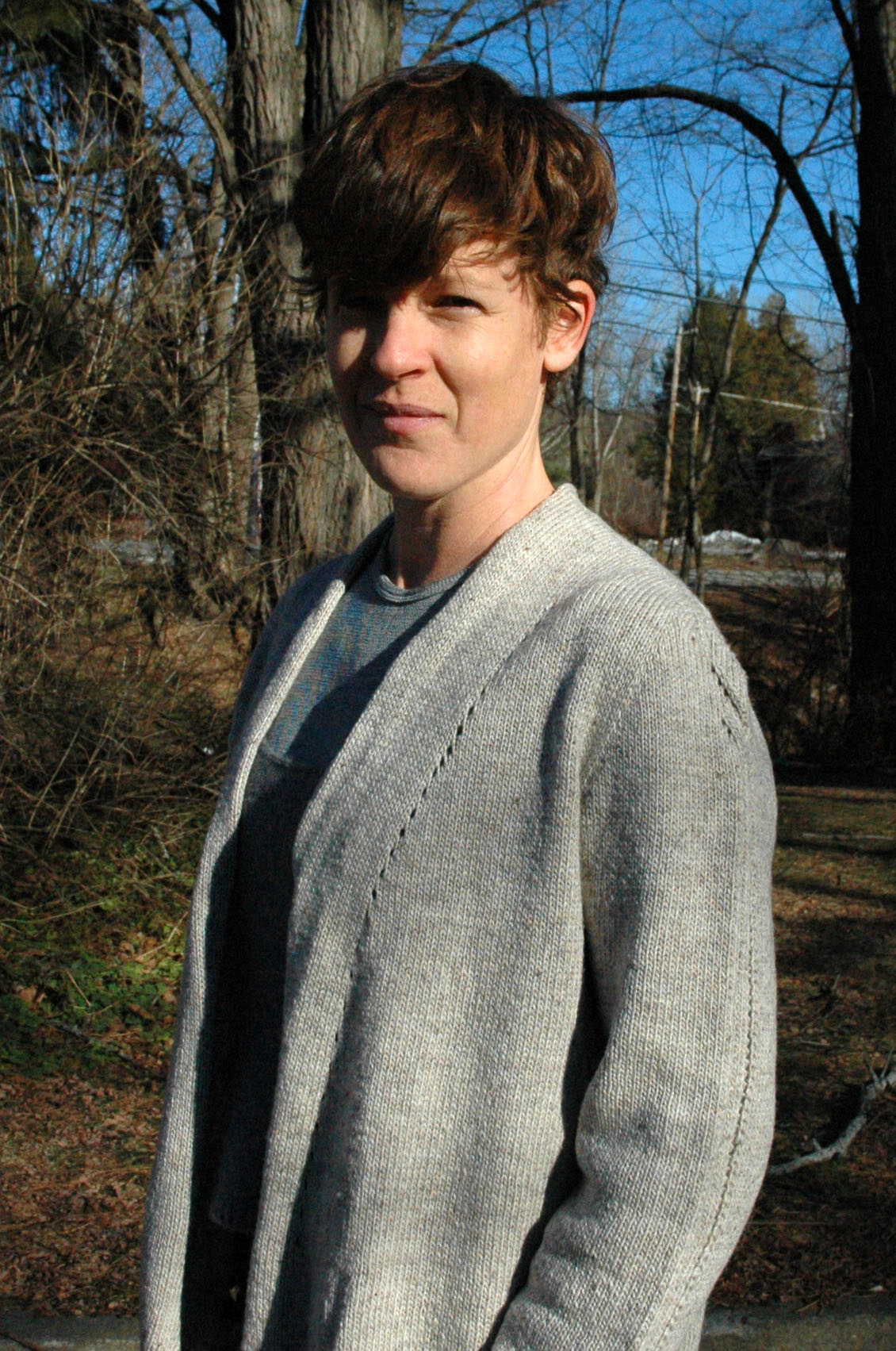 Maureen's favorite project of 2014 is the Summerhill cardigan designed by ANNESTRiCK (modeled by Kate above).  This beautiful sweater knit up with Spinnery Sylvan Spirit in the Sterling color included her first contiguous shoulder.  The technique results in the look of a set in sleeve with the convenience of a top-down construction.  And with the included lacework of this pattern the result is stunning!
Larisa has selected one of her most recently finished projects as her favorite.  Her Gold Rush Shawl designed by Amy Christoffers is a shop favorite knit up with the rich dark Evergreen color of Mewesic.
All of us enjoyed the KAL that had us working on this lovely shawl through the holiday season.  It was fun to check in with one another around the "water cooler" and see who had progressed further through the charts.
As you look ahead to 2015 with resolutions or intentions for your craft, we hope that if there are particular projects or some new knitting skills you are eager to master, that we at the Spinnery can help make that happen for you.  Our biannual Knitting Retreats have provided many crafters with a warm and friendly environment to learn exciting new techniques.
And if you are a Vermont (or southern New Hampshire) local, you may  find that our Community Knit Night on the 2nd and 4th Wednesday evenings of every month from 5:30-7:30pm is a wonderfully supportive and nurturing group. Many a new knitter has found answers, suggestions, and other help from friendly neighbors around our work table.
All of us at the Spinnery wish you the happiest of New Years and hope that we'll be seeing you soon.