While traveling last week, Maureen had plenty of time to work on a new shawl.  She cast off her last few stitches as we drove back to Vermont from Maryland and will be able to model it this weekend at the New Hampshire Sheep & Wool Festival.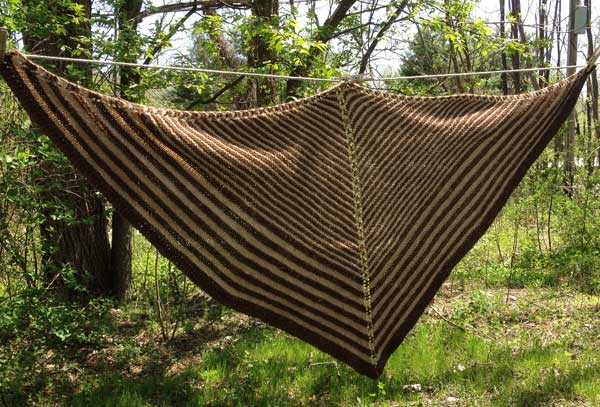 This is the Lallybroch Shawl designed by our friend Marly Bird.  This pattern was recently published in the Spring 2015 issue of Love of Knitting.  (We have a couple of copies still available).
Marly has confessed that this shawl was inspired by the one worn by Claire on the tv show Outlander.  And we should confess that if we had remembered to pack the cord we needed for the truck's stereo, we would have been listening to one of the audiobooks in the series while Maureen was knitting and Kate drove.
Maureen's version was knit up with two colors of the pattern's called for Spinnery Alpaca Elegance: Chai and Cocoa.  We love the warmth of these two colors together and it looks beautiful on Maureen.
We hope that you'll be able to visit us at the festival this weekend so that you can see this beautiful shawl for yourself.  It is likely that you'll want to cast on for your own without delay.