Last week we shared some beautiful project ideas for the Spinnery's hand painted skeins of Simply Fine on our Facebook page.  We have found that many of us are drawn to work on smaller accessory projects with lightweight yarn while summer's heat still lingers.
This fingering weight single ply yarn is a wonderfully soft blend of 60% Fine wool and 40% premium kid mohair.  Our friend Melissa Johnson who dyes these skeins for us has made each one a work of art.  And the beauty of this yarn lends itself perfectly to delicate shawls, scarves and cowls.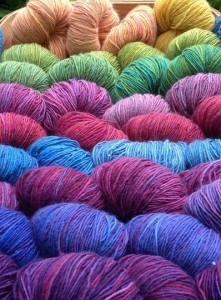 While browsing through Ravelry, enjoying the photos of finished projects we found created with Simply Fine, we found a stunning collection of projects that were created with the variegated skeins of the Simply Fine. These undyed skeins are naturally "painted" by blending the different  fibers in the carding process so that the yarn is softly striated with a spectrum of tones from brown, taupe, to grey.
This soft ombre effect can be just as dramatic as a pop of pure bright color.  We thought that we'd share some of our favorite photos with you this week, so that you could also enjoy the effects of this special yarn.
This is our Ravelry friend Emilie's Holden Shawl.  This lacey design by Mindy Wilkes can be created with one to two skeins of Simply Fine depending on the size of the finished shawl you'd prefer.  We have a sample of this eye-catching shawl in our shop and it continually steals the show.
Those beautiful striations of natural color make our friend Christine's version of Stephen West's Boneyard Shawl a real stunner.  We love how the simple stripes of purl stitch texture pairs with the changes of color.  This FREE pattern can be knit up with just a single skein as you see here.  Or a larger version can be made with an additional skein to provide more depth to snuggle into.
Our Ravelry friend Elizabeth has used the yarn for a couple of projects.  First, is Katharina Nopp's FREE pattern for the Wurm hat. This slouchy welted hat has a folded brim for extra warmth for your ears.  Elizabeth made some pattern modifications to adjust the pattern for her gauge, since the pattern calls for a sport weight yarn.
Next is the FREE Less is More Shawl designed by maanel.  This version was created with roughly a skein and a half of the variegated Simply Fine.  This slightly asymmetrical shawl is knits sideways, and the pattern allows for size adjustments to fit your preference.
Last but certainly not least, is Mary's version of Lisa Mutch's Nimbus Shawl.  The sections of the shawl drape beautifully around one's shoulders making a flattering accessory with stunning drape and an unusual overall shape.  The garter stitch texture provides more substance to the design rendering it more plush. Mary used a single skein for her project.
We have a few more projects to share with you that will be featured on our Facebook page.  We hope that you've enjoyed the selection and that these lovely photos might inspire your next project.
Thank you to all of the knitters who so generously shared their photos with all of us.