Two of our Ravelry friends recently wowed us with their projects that used some of our un-dyed yarns.  We'd like to share them with you to see if their project spark some ideas for your own!
Julie has created an unusual version of Junko Okamoto's Bouquet Sweater.  Instead of opting for stranded color-work, Julie's version is using monochromatic texture to a much more subtle effect.  It is dreamy!
Julie has used Spinnery Sylvan Spirit as her main background color and has double stranded lighter weight blends of merino, alpaca, mohair and silk for her contrast floats.  This transforms the overall effect of the sweater into an ethereal work of art that has a tactile appeal.
In her project notes, Julie records: "Trying to do a monochrome version, holding two stand of Tussock with the Suri Loft to get a comparable yarn weight. So far the cc knits are retreating but the floats look very cool. If it's too subtle I may over dye in the end, with the intention that all the yarns will take color a little differently."
We imagine that you'll agree with us when we hope that Julie maintains that un-dyed magic of her sweater.  With that in mind, we have another successful project to share with you that beautifully expresses the very different kind of alchemy that only a dye pot can achieve.
Westhill embarked on a very different kind of yarn adventure when he began working on this stunning cardigan in early 2019.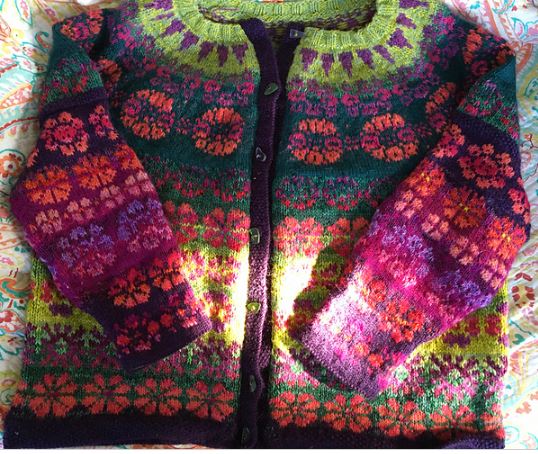 "I started out making this in subdued (for me) colors, thinking I should knit like a grownup or something, and was instantly bored. Bleeaaahh. Hated it. It was actually depressing. Ripping back and starting over and letting the bright colors fly. I'll never do that again!"
"This sweater started as part of the 2019 "Design Your Own Stranded Sweater" challenge in the Stranded group. Everyone is using the Strange Brew pattern, which gives formulas and guidelines for designing a stranded yoke sweater in any size.
This is all yarn that I dyed, except for some thrift-store yarn that happened to be a color I needed. I made all these colors from just four shades of Dharma Trading's acid dyes. I use vinegar for the acid and dye in thrift-store pots in my kitchen. I mix Poinsettia, Magenta, Sapphire Blue and Brilliant Yellow to make any color I need.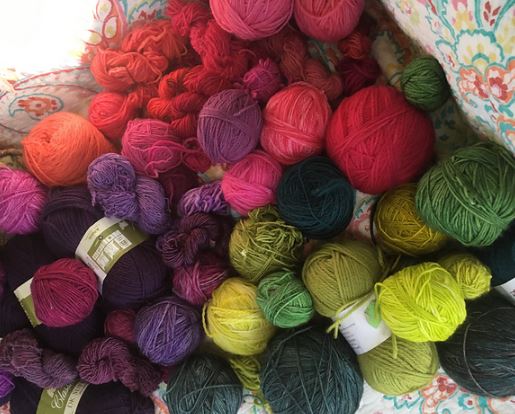 There are also some yarns in here that I dyed with lichen to make various shades of purple.  I have a lot of un-dyed yarn, and some dyed yarn, from Mary, who so kindly gave me a bunch of her stash. GRATEFUL!  I will also be mixing in doubled sock yarn, thrift store yarn, my hand spun, Green Mountain Spinnery mill ends, and scrap yarn.
I'm doubling a lot of the yarn, using two different shades of a color in the same stitch—this makes the colors richer and more vibrant. This makes a thick, windproof fabric, so I'm making it into a jacket to wear outside."
And what a masterpiece this cardigan has become!  We've been swooning over the incredible depth of color that Westhill achieved.  Think of the fun you could have by digging into your stash to find what you already have on hand.  Any shades that you are missing to complete the palette you desire can be created with any one of the white un-dyed yarns that the Spinnery makes, beginning with a day or two of experimenting with dyes!
Our un-dyed white fingering weight options include Lana, Meadow, Forest and Simply Fine.  Our Sport weight option includes the discounted 3-ply Forest.  Our DK weight options include Mewesic, Cotton Comfort, Sylvan Spirit and Alpaca Elegance.  Our Worsted weight options include Mountain Mohair, Weekend Wool, Maine and Vermont Organic and Green Mountain Green.  Finally our Bulky weight option is Capricorn.
You may also find as you start experimenting with dye, that you want to see how over-dying grey yarn can deepen and enrich a shade.  Then there are even more exciting options open to you!
We hope that these two projects inspire you as they have us.  We continue to be excited and delighted by the projects you are making with our yarns.  Thank you!