While 2021 is wrapping up, we thought we would offer you a quick reverse chronological review of the patterns that we launched during the past 12 months.  Since last December, we have developed a total of fifteen new patterns, including garments, accessories, a cozy throw blanket, and a dog sweater!
We've gathered them all here together so that you can familiarize yourself with them. We're hoping that these photos and brief descriptions may get your creative juices flowing, and help you find what you'd like to knit next as we begin a brand new year of projects.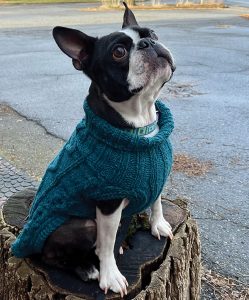 Last week, we shared our Diamond in the Ruff pullover pattern for small to medium sized pups.  Why not wrap your favorite pooch with lush cables that show your love?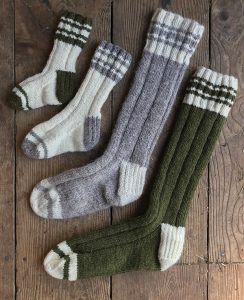 Among the other smaller projects that we published this year you'll find an update to the classic IBH Sock pattern.  The revised pattern includes more sizing options and more detailed instructions to make it more approachable for newer knitters who want to try their hand at socks!  Worked up with worsted wight yarn, these socks are a quick knit and very warm and durable.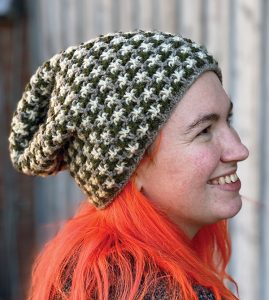 This fall's FREE pattern offering was the Co-op Cap, a unisex slouch that we all knit up in celebration of the Spinnery's 40th year in business!  It works up quickly with three colors of worsted weight yarn and requires no decreasing, making it a perfect project for new knitters eager to try working in the round.  The slipped stitch color motif looks complex but is easily achieved by working each row with a single color at a time.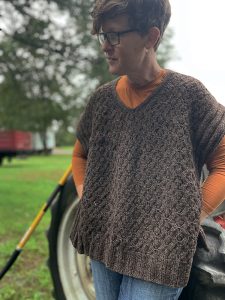 To launch our fall festival season, we created the Held Fast Vest, an Aran weight lace shawl made with our Weekend Wool.  It can be popped over the head for a bit of light woolen warmth that is sturdy enough to work as well for a trip to the market as a few hours in the garden.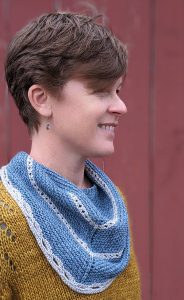 Next up is the pattern Maureen created in collaboration with our friends Mark and Pam of Indian Lake Artisans (makers of our favorite hand crafted hexagonal wooden needles).  It Takes Two, a little kerchief, is quickly worked up with two contrasting colors of our DK weight yarns.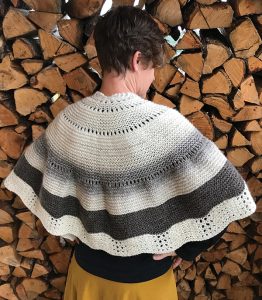 To get ready for this winter's chills, Maureen designed the Sakina Shawl.  This cozy crescent shawl uses all three undyed colors of Spinnery's Green Mountain Green yarn.  These natural skeins include the softest mohair and finest wool that we work with at the Mill.  It is a luxurious pleasure to wrap up in this garter stitch and simple lace confection.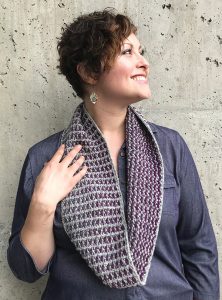 Cap Sease's Traveler's Joy cowl is created with two contrasting skeins of our DK yarns.  This beautifully illustrates how the shifting tones and hues of our variegated Ragg-Time yarns can add complexity to simple projects to stunning effect.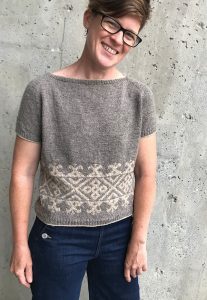 July heat had us thinking of the utility of a lightweight top.  The Royal Tee is a cap-sleeved pullover that features a top-down raglan sleeve design and a large two-color geometric motif worked around the hem instead of the yoke.  This design can be worked with undyed neutral shades with a subtle contrast as shown above, or two of our more concentrated shades of Lana for a much bolder look.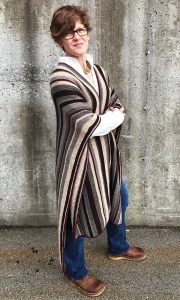 Our love affair with fingering weight Lana for summer garments started with the Brattleboro Ruana and the Tudor Cardigan.  Both are made with our 2-ply 100% wool yarn that create perfect layering pieces for warmer climates and temperatures.  You'll enjoy the magical properties of wool that keep you both warm and cool enough at the same time.
Late Spring had us reaching for our DK weight yarns like Mewesic, with which to make Donovan.  This classic V-neck pullover has a seamless top-down construction allowing you to try it on as you go.  The eye-catching stripes can be worked in tonal variations, contrasting hues, or be skipped entirely if you find yourself drawn to the idea of a single-color sweater with the classic silhouette of this design.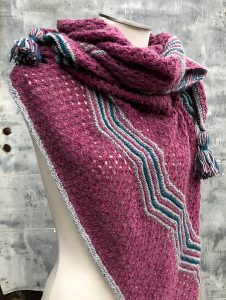 If you are drawn to drama, look no further than Scarlet!  Bold three-color stripes and delicate yarn overs work together to create a large asymmetrical shawl that is finished with generous tassels.  You'll steal the show in this baby.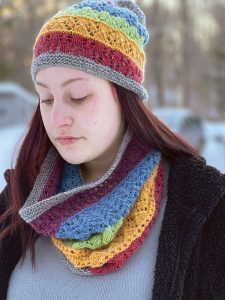 Our new blended colors of Simply Fine, the half-sized Skinnies, are used with equally beautiful success in Haylie's Cowl and Hat.  This set of accessories can both be made with the yardage included in the 6 contrasting colors that the pattern calls for.  Each bright stripe features a different lace pattern.  The yarn has a delicate and delightfully soft hand.  It will be as great a pleasure to work with as it will be to wear.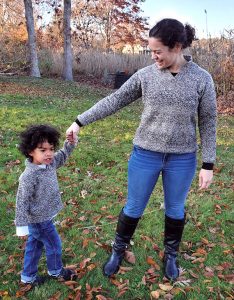 Last year began with the publication of our Hand Me Down sweater.  This clever pattern for a bottom-up Henley style pullover features sizing for the entire family.  Multiple versions can be made for siblings or for a parent child combo to create a family photo that will be talked about for years to come.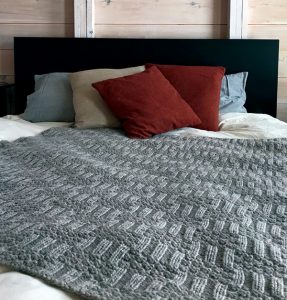 Last but not least is the Wood Stack Throw.  This is the perfect project with which to start your year if you are in a colder climate.  It will warm you as it is constructed and then enfold you in cozy comfort when complete.  Made with our Capricorn yarn (the bulkiest blend of Wool and Mohair we make), it works up surprisingly quickly for a project this big.