You may have already seen our brand new patterns if you follow us on Facebook.  We gave our friends there a sneak peek of the four new patterns that made their debut this week at the Maryland Sheep & Wool Festival.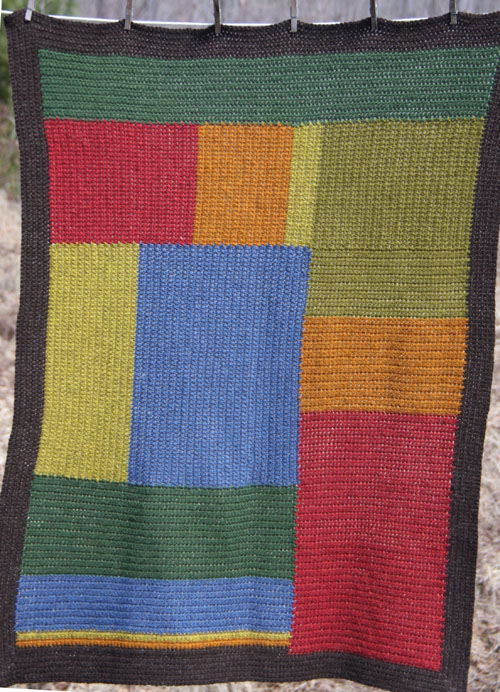 For those of you out there who are able to crochet (or are ready to give it a try) Gee's Bend Afghan is a cozy, warm afghan inspired by the corduroy color block quilts of Gee's Bend, Alabama. It was designed by our friend and neighbor Melissa Johnson.   You could vary the colors and sizes of the blocks to suit your own personal style and yarn supply. Working in bold colors and single crochet throughout makes the afghan fun and quick to create.
Gauge: 12 SCs and 12 rows over 4 in / 10 cm
Size: approximately 44 in / 112 cm wide x 62 in / 157 cm long
Yarn: Weekend Wool – 12 skeins in assorted colors
Hook: Size K / 7 mm
Pictured in Natural Dark, Poppy, Blue Jay, Spruce, Pine Warbler, Lichen and Pumpkin Weekend Wool.
Next up is lovely Tracy modelling the Islander Pullover designed by Libby Mills and Cap Sease!  The Islanders' Vest pattern has been such a big hit that we decided to turn it into a pullover. Knit in one piece from the bottom up in Weekend Wool or Mountain Mohair, it has easy inserted sleeves that are knit right on. Minimal finishing means you'll be able to wear your masterpiece almost as soon as it is off the needles.
Gauge: 18 sts over 4 in / 10 cm
Finished Chest Measurement: approx. 35 (38, 42, 45, 49) in / 89 (97, 106.5, 115, 124.5) cm
Yarn: Weekend Wool or Mountain Mohair – 7 (8, 8, 8, 9) skeins
Needles: Size 7 US / 4.5 mm circular needles, 16 in / 40 cm AND 29 in / 60 cm long AND dpn, size 7 US / 4.5 mm
Shown here in Spruce Weekend Wool.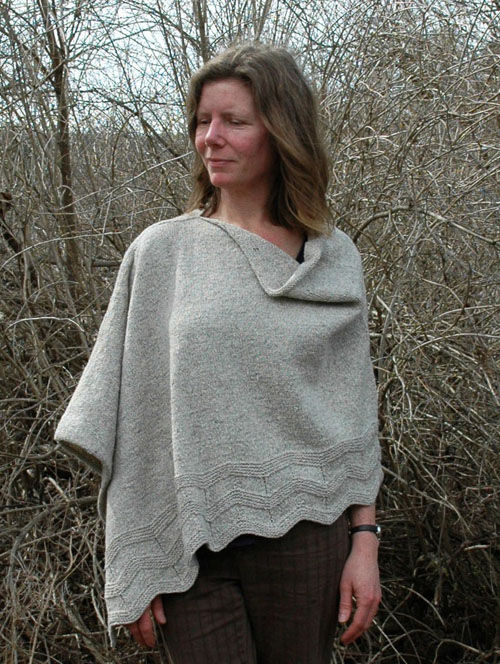 Lauren is wearing the Equinox Poncho designed by yours truly! This is a simple poncho, with an elegant chevron edge and the option to personalize fit, this is the perfect garment for spring when knit in Cotton Comfort. Alpaca Elegance will make it a bit warmer, and Sylvan Spirit will add a tad more drape.
Gauge: 28 sts over 4 in / 10 cm before blocking
Size: approximately 64 in / 163 cm wide x 22 in /56 cm long after blocking
Yarn: Cotton Comfort, Alpaca Elegance or Sylvan Spirit – 7 skeins
Needles: Size US 5 / 3.75 mm circular needle, at least 32 in / 80 cm long
Shown here in Cotton Comfort Silver.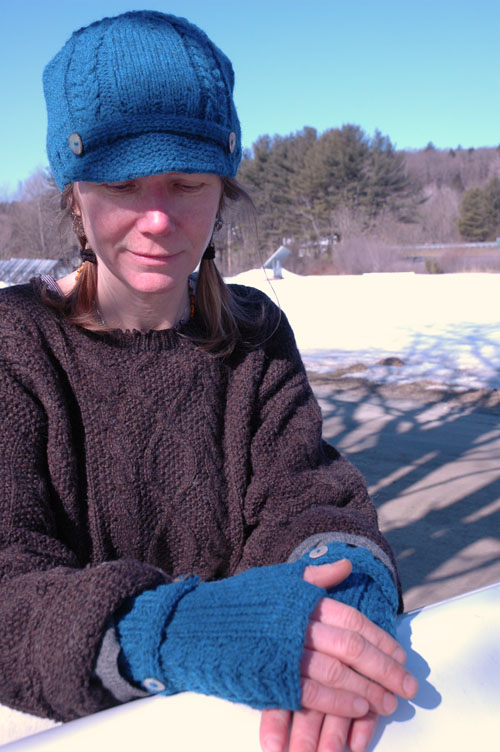 Last but not least is a fun new accessory pattern brought to us by Rachel Stecker.  Her Wicked Good Moxie Hat and Handwarmer pattern makes a fun set that we imagine will be a huge hit this fall as the weather starts to cool, and knitters start looking for perfect holiday gifts.  You could get a head start this year!

Sizes: Hat – Infant (S, M, L) Finished hat circumference approximately 16¾ (20, 20¾, 21½) in / 43 (51, 53, 55) cm
Gauge: 20 sts over 4 in / 10 cm
Yarn: Weekend Wool or Mountain Mohair – 2 skeins
Needles: Size 6 US / 4 mm AND size 7 US / 4.5 mm circular needles 16 in / 40 cm long AND size 5 US / 3.75 mm needles, any type, AND dpn, size 7 US / 4.5 mm, cable needle
Shown here in Deep Lake.
We hope that you are as excited as we are about these fun new patterns.  You can find a downloadable copy of any of these new patterns for purchase on our website.  They are $7 each.  You can also call us at the shop at any time at 800-321-9665 if you have questions or would like our help picking out the perfect Spinnery yarns to work with. 
If you are in the New Hampshire area this weekend you can check out these samples in person.  We'll be in Deerfield at the New Hampshire Sheep and Wool Festival.  And next week you can stop into the Spinnery to visit us and try them on.  We look forward to seeing you soon!